We love finding new ways to make floors stylish and cool, which is why we love finding new trends in flooring. The latest one is concrete tiles. Concrete tiles are exactly what they sound like – concrete that has been pressed and cut into neat squares of tile. They come in a variety of colors and designs and offer a good bang for your buck.
We break down the ways they make a great flooring choice for any home and any homeowner, and what drawbacks you will have to watch out for.
Decorative Concrete Tiles: The Good Parts
If you're thinking about getting concrete tiles for the floors in your home, here are more reasons to support the decision:
Durability. Like all concrete floors, concrete tile floors offer great durability. They are extremely strong and will not crack under traffic and weight. This makes them great for high-traffic areas in the home.
Stylishness. There are no two ways going about this – concrete tiles are so cool. The sleek, smooth finish of them makes them incredibly attractive. They come in a variety of colors and textures (and some even have decorative concrete techniques imprinted on them), but we particularly love the look of plain gray concrete tiles.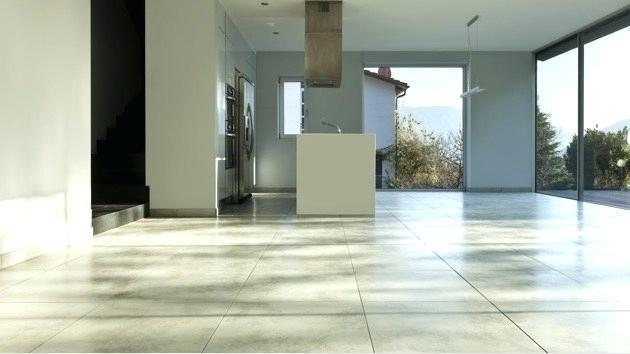 Concrete floors without the pouring. If your budget is too tight to make space for traditional concrete floors that are poured and that can be customized with decorative concrete, then concrete tiles are a great choice. You still get the look and the durability without the bigger cost of mixing and installing. Additionally, if you already have non-concrete flooring in your home that you are wanting to replace, concrete tiles can easily be layered on top.
Low-maintenance. Like traditional concrete floors, concrete tiles are a low-maintenance flooring material. They are famously easy to clean once sealed, as just a mop and a small amount of water will neatly get rid of any spills or dirt.
Concrete tiles: the not-so-good parts
We believe that for any home improvement decision you make, you should always go in knowing both sides of the coin to avoid unpleasant surprises in the future. These are the drawbacks of concrete tiles:
Patina. If you don't know what patina is, it's what gives the Statue of Liberty that iconic green color (it actually used to be copper!). Patina is a thin layer of various chemical compounds that develop on surfaces exposed to various atmospheric elements. It's not a bad thing – in fact, a patina is a kind of protective layer that will develop over your concrete tiles. But it's definitely a change in look. And if an uneven patina is not something that you want, then concrete tiles may not be for you. On the other hand, if you like the rustic and almost vintage look, then go for it!
Porous. Concrete, in general, is quite porous, and concrete tiles are no different. Even after it has been sealed, concrete tiles can still stain so you will have to be careful about what may spill on them.