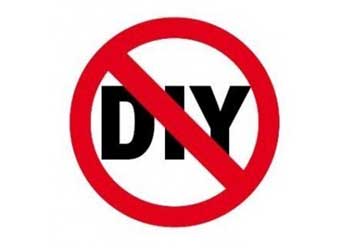 The DIY movement has become popular enough to encourage people to roll up their sleeves and do stuff by themselves. Yes, it can be very cost-efficient but, without enough knowledge or training, it can be an expensive disaster, especially when it comes to home improvement projects. Here are 5 home upgrades that you should just leave to the experts:
Floor Resurfacing
Upgrading your floors is not like painting a wall. Because it endures more use and abuse, it requires a material and application that will be durable enough. For example, stamped concrete is trending highly in the decorative concrete industry. You need tools and equipment that specialize in prepping the old concrete, the skill to stamp concrete with patterns, and then staining or sealing the surface. Even pavers are quite tricky. The preparation of the ground underneath isn't something you can just learn from a few minutes of watching or reading a tutorial.
Plumbing and Electrical Work
Plumbing can be a challenge because you want to make sure that you don't cause any floods or waste an immense amount of water. You also need to know how the water lines run to prevent any risk of affecting another pipe in the process of a repair. Electrical work, well, this is definitely a no-no for a DIY because it can be quite risky and complex. Hiring a pro will give you the assurance that everyone is kept safe and that repairs on the wires or outlets are done properly and according to the state's building code.
Tile Installation
Although a lot of DIY enthusiasts have successfully installed bathroom and kitchen tiles themselves, it is highly recommended for newbies to hire a professional tile installer. Ceramic tiles are very fragile and it needs to be laid evenly on walls or floors to prevent having to tear them out and redoing them with a new batch of tiles. Any small dip can become an area where water accumulates. Tiling involves a lot of planning, preparation, and careful installation. Just let a pro handle it to prevent any stress on your part.
Carpet Removal
If you are tired of your old carpet and want a different floor surface instead, get someone to remove it for you. Pulling the carpet out can be quite messy and detrimental to your health with all the dust and dirt that may have accumulated underneath. Also, the floor underneath may not be in the best condition to replace your carpet as a walking surface. It might need to be pressure washed, resurfaced, or completely re-poured.
Roof Repair
The fact that it is a repair done way up from the ground is enough reason to leave it to the experts. There have been several cases of people falling from the roof during a minor or major repair. You don't want to risk that, do you? So forget about doing it yourself and hire a pro that specializes in roof repairs. Also, roof repairs are quite complex especially if it involves a very specific type of roofing material. You might also have to check and fix the ceiling or any insulation underneath it.