In business, every aspect or element should contribute to its success. A good business owner invests to make sure that their target consumers and employees are satisfied. When it comes to fixing up a commercial space, floor design is an element that should not be ignored. It is equally important as your business sign outside. Concrete resurfacing is one way you could enhance or improve the appearance of your commercial floors. It does not have to be expensive. It just has to be designed based on the following factors.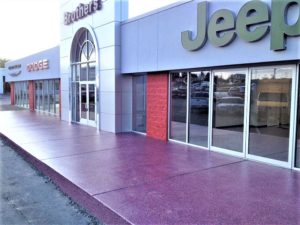 The Nature of the Business
The floor should be appropriate for the type of business you have, both in form and function. If you are in the food or dining industry, choose a flooring material that does not easily stain from spilled food or drinks. Also, choose something that is easy to clean and maintain. Customers would not want to dine in a place that looks dirty or messy. If you are in the automotive industry, choose a flooring material that is durable enough to withstand the tremendous weight of vehicles. It should also be tough enough against impact, high traffic, and grease stains.
The Overall Design Theme
When choosing the design, color, or material of the floor, make it match or complement the entire theme of your business space. A modern floor design will look disconnected in a vintage themed room. It is highly recommended to consult a design expert to find out which floor materials, colors, and designs would look appropriate for the room design of your choice.
The Safety of Customers and Staff
More than aesthetics, the floor should also promote safety and functionality. In a business space where you expect people and staff to walk around often, choose a flooring material that makes walking comfortable and safe from slips and falls. In a commercial space where the floor could possibly get wet or greasy, opt for slip-resistant floors.
The Effect to the Environment
There are many flooring materials nowadays that are certified sustainable so finding an environment-friendly option should not be too difficult.
Choosing a commercial flooring material determines how appealing and interesting your business space would be. It will ensure the safety of your customers as well as the people working for you. You would not want customers suing you just because they slipped on your slippery floor, would you? The benefits affect you and your business tremendously. So, if you want to be successful in your endeavor, choose a commercial flooring material with utmost care.